Apple Cranberry Strudel
Instead of the raisins, this Apple Strudel uses dried cranberries instead. It's also lighter, crispier and easier to make by using phyllo pastry instead of typical thick pastry.
Directions
Peel, core and quarter the apples. Cut each quarter in half and then each wedge into three pieces (you will have apple chunks).
In a heavy-bottomed 12-inch frying pan, melt 3 tablespoons of the butter over medium-high heat.
Add the sugar and cook, stirring, until the butter and sugar melt together, turn light brown and have the consistency of peanut butter. Add the apples carefully (the sugar mixture is very hot).
With a wooden spoon, mix the apples carefully with the carame. The caramel will harden; don't worry, it will melt again.
Mix together the cinnamon, allspice and nutmeg and sprinkle evenly over the apples. Cook the apple mixture, stirring often, until the caramel melts and the apples soften and start to look cooked.
Stir in the cranberries and the cornstarch mixture. Cook for 2 to 3 minutes, until the juices in the pan thicken and take on a glossy appearance.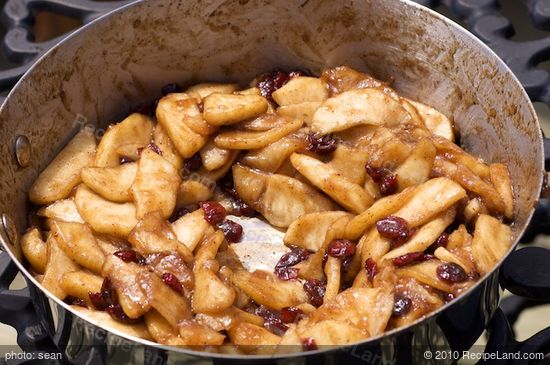 Transfer the apple-cranberry mixture to a shallow dish and let cool.
Preheat the oven to 350℉ (180℃). Line a baking sheet that has a raised rim all around with parchment paper.
Melt the remaining 3 tablespoons of butter.
Lay a sheet of phyllo on the prepared baking sheet. Brush the phyllo sheet lightly with the melted butter.
Place the next sheet of phyllo on top and brush it with butter. Repeat with the remaining sheets, but do not butter the top sheet.
Reserve a bit of melted butter to brush on top of the finished strudel.
Place the apple-cranberry mixture in a strip along the long side of the phyllo, about 1 inch in from the edge.
Using the parchment to help keep th ings together, roll up the phyllo to form a long log.
Adjust the roll's position on the baking sheet so it is not touching the sides of the sheet.
The roll will leak while it cooks, so make sure it is on the Brush the top of the roll with the reserved melted butter.
Bake in the preheated oven for 25 to 30 minutes, until the roll is nicely browned. Let it sit at least 15 minutes before serving.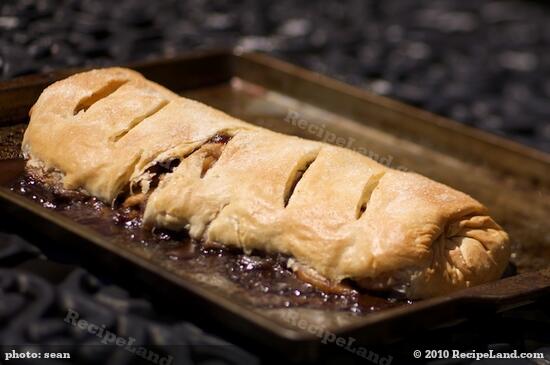 Nutrition Facts
Serving Size
99g
(3.5 oz)
Amount per Serving
Calories
137
45% of calories from fat
Trans Fat 0g
Sugars g
Vitamin A 5%
•
Vitamin C 5%