Whole Wheat Peanut Butter Cookies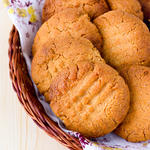 Whole Wheat Peanut Butter Cookies recipe
Metric
Directions
Preheat oven to 350℉ (180℃).
Cream together the peanut butter and vegetable oil in a bowl.
Add brown sugar, vanilla, and egg.
Beat well.
Add flour (reserve ¼ to ½ cup) and baking soda.
Blend thoroughly.
Add enough extra flour so that you can shape dough into balls and place on an ungreased baking sheet.
Can be made as 36 medium (my choice) or 48 small cookies.
Flatten with a fork, bake about 10 to 15 minutes or until lightly browned.