Very Creamy Butternut Squash Soup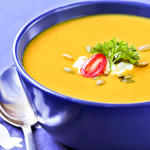 Creamy Butternut Squash Soup recipe
Metric
Directions
Put the squash and 3 cups of the vegetable stock in a large pot.
Bring to a simmer over medium heat, then reduce the heat, cover and cook until the squash is tender, 15 to 20 minutes.
Remove from the heat, and let the squash cool in the cooking water.
Using a slotted spoon, remove the squash from the pot.
Peel the squash, and set aside.
Set aside the pot of cooking liquid.
Blanch the almonds in boiling water for 30 seconds.
Drain, and squeeze the almonds between your fingertips to remove the skins.
Compost or discard the skins.
Put the blanched almonds and the remaining 1½ cups vegetable stock into a blender.
Blend until smooth, about 1 minute. Add the cooked squash, curry, salt, and pepper and process until smooth.
Add the squash mixture to the pot of cooking liquid, and bring just to a simmer over medium heat.
Serve hot, garnished with parsley sprigs, pumpkin seeds and cherry tomato halves if desired.