Super Crispy Oven Roasted Potatoes
Crispy on the outside, soft and tender on the inside. With a bit of attention to the preparation technique you can turn oven roasted potatoes into crispy bites of heaven.
Directions
Position your oven rack to the lowest position and place a baking sheet on the rack to preheat.
Preheat the oven to 450℉ (230℃).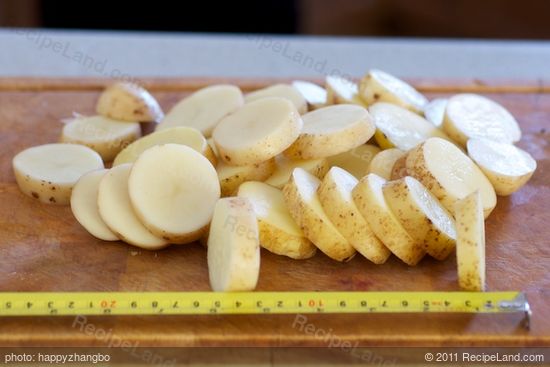 Add the potatoes into a large pot, cover with cold water and add ½ tablespoon of salt.
Cover and bring to a boil over high heat. Reduce the heat to a gentle simmer and cook for 5 minutes only. They should offer some resistance when prodded with a fork.
Drain the potatoes well and place into a large bowl. Add 1 tablespoon of olive oil and ¼ teaspoon of salt.
Using a wooden spoon or spatula aggressively stir and toss the potatoes so that a film of mashed potato develops and coats the potatoes.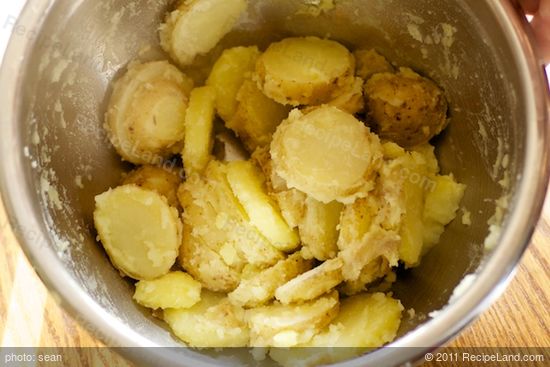 This is to aid in evaporation when in the oven be creating more surface area to achieve a crispy exterior.
Drizzle another 1 tablespoon of olive oil and sprinkle another ¼ teaspoon of salt over the potatoes.
Toss to distribute, ensuring the potatoes are well covered in the starchy mashed paste. This may take a minute or two depending on the firmness of the potatoes.
Remove the preheated baking sheet from the oven (careful it's hot), and drizzle the last 1 tablespoon of oil over the baking sheet.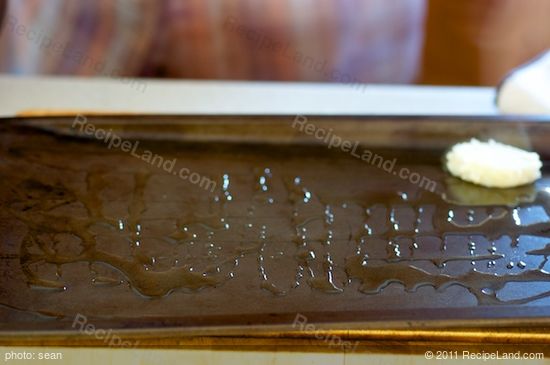 Arrange the potatoes onto the baking sheet in a single layer.
Bake in the preheated oven for 15 to 20 minutes, until the bottoms of the potatoes are golden brown and crisp. Rotate the baking sheet ½ way through to ensure even browning.
Remove the baking sheet from the oven, and with metal tongs or a spatula gently turn the potato rounds over.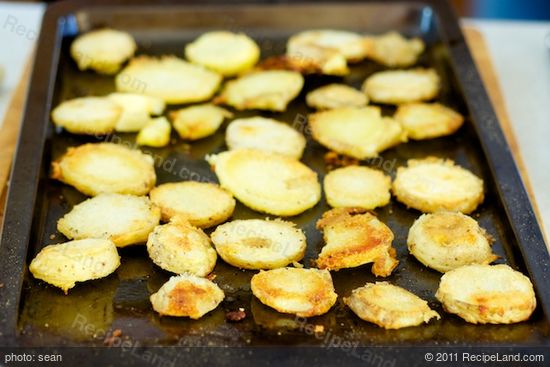 Keep roasting until the the other side becomes golden, brown and crisp, about 15 minutes, rotating the pan if needed to brown the potatoes evenly.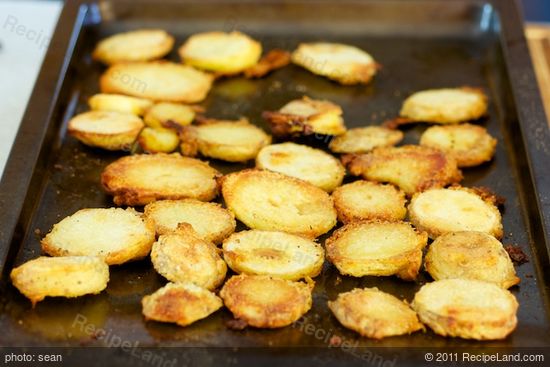 Season with salt, black pepper or whatever seasoning you like.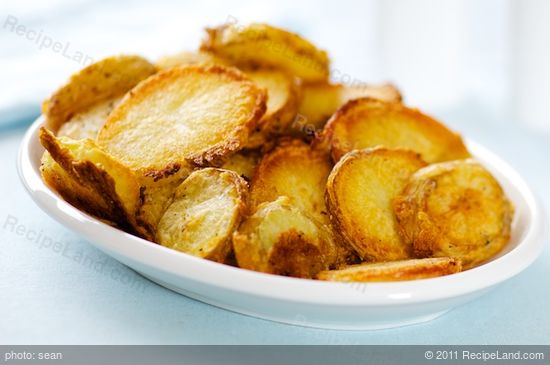 Serve.
Nutrition Facts
Serving Size
110g
(3.9 oz)
Amount per Serving
Calories
249
71% of calories from fat
Trans Fat 0g
Sugars g
Vitamin A 0%
•
Vitamin C 11%