Simply the Best Chocolate Brownies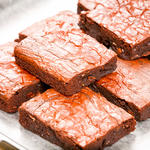 Simply the Best Chocolate Brownies recipe
Metric
Directions
Butter and flour a square baking pan.
Sift together dry ingredients. Melt butter in a double boiler; add chocolate and melt.
Beat together eggs, sugar and vanilla.
Stir in chocolate mixture until well combined.
Add dry ingredients. Add sour cream.
Place batter in prepared pan and bake at 325℉ (160℃)ahrenheit for 40 minutes.