Sichuan Broccoli, Tofu, and Carrot Stir-Fry
Quick, easy and packed with deliciousness. Serve this sichuan style stir-fry dish with rice to complete the meal.
Directions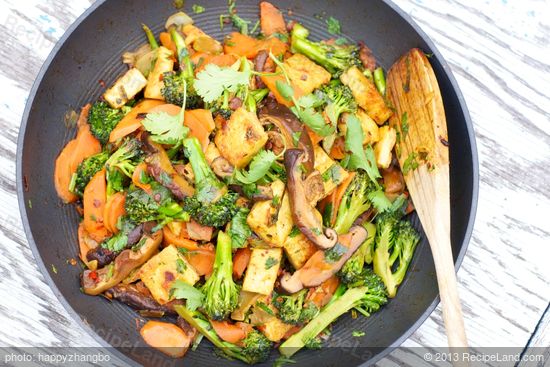 Heat 1 tablespoon of oil in a large wok or a large nonstick skillet over medium high heat until hot.
Add the tofu, stirring every 2 to 3 minutes, and cook until almost all sides become golden and brown, about 6 to 8 minutes.
Transfer the cooked tofu cubes onto a plate and set aside. Add the remaining oil into the same wok or skillet over medium high heat.
Stir in the garlic, ginger, and scallions; cook for about 1 minutes until vert fragrant. Add the carrots, stirring often, and cook for about 2 minutes.
Add the broccoli and shiitake mushrooms, stirring constantly, and cook for another 3 to 4 minutes or until the broccoli becomes brightly green.
While the vegetables are cooking, whisk all the sauce ingredients except cilantro in a small bowl.
Pour the sauce over the vegetables, and stir until all the vegetables are evenly coated.
Cook for another 1 to 2 minutes until heated through. Remove from the heat, and stir in the cilantro. Serve warm with rice or steamed buns.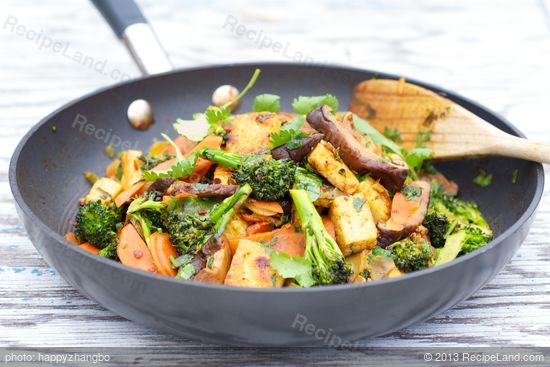 Nutrition Facts
Serving Size
263g
(9.3 oz)
Amount per Serving
Calories
299
66% of calories from fat
Trans Fat 0g
Sugars g
Vitamin A 192%
•
Vitamin C 231%