Double Chocolate Biscotti
Italian Biscotti is so handy as a snack with a cup of coffee, everybody loves chocolate, these double chocolate biscotti gives you tons of chocolate taste, enjoy your coffee time with these delicious biscotti!
Directions
Position rack in the center of the oven, preheat to 325℉ (160℃) F. Line 2 large baking sheets with parchment paper.
Mix well flour, cocoa powder, baking soda, baking powder and salt in a large bowl.
In another large bowl, beat eggs, egg yolk and sugar with an electric mixer in high speed until thick and pale yellow, 3 minutes. Beat in vanilla and melted chocolate.
Stir in the dry ingredients with a wooden spoon until just moistened, the dough should be very dry.
Turn the dough out onto a lightly floured surface, knead for 1 to 2 minutea, then divide in half.
Roll each piece into an 10-inch log, flatten slightly to about ¾ inch high and 4 inches wide. Place the logs side by side on one of the prepared baking sheets.
Bake until lightly browned and firm, 25 to 30 minutes. Cool on the pan on a wire rack for 20 minutes.
Keep the oven on, switch the oven racks to the upper and lower thirds of the oven. Slice the logs on the diagonal into cookies ½ inch thick. Arrange, cut-side down, on the 2 baking sheets. Bake for 10 minutes.
Turn the biscotti over and rotate the pans from top to bottom; bake until dry, about 20 minutes more. Transfer to a wire rack to cool. Storage in an air-tight container.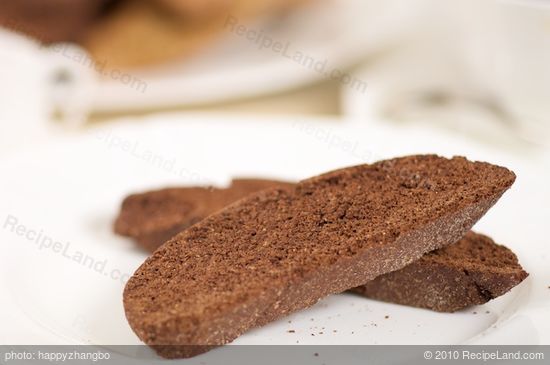 Nutrition Facts
Serving Size
48g
(1.7 oz)
Amount per Serving
Calories
142
11% of calories from fat
Trans Fat 0g
Sugars g
Vitamin A 1%
•
Vitamin C 0%