Do-Ahead Party Mashed Potatoes
Make it ahead to save some time for your party day, and it tastes delicious when it comes out of the oven and freshly baked.
Directions
Peel and quarter potatoes. You will have 7 to 8 cups peeled potatoes.
Put potatoes in large saucepan with water to cover. Bring to a boil and boil until tender, about 20 to 25 minutes. Drain well. Mash until smooth with potato masher or electric mixer.
Mix cream cheese with sour cream or yogurt, onion salt and pepper. Beat into the potatoes and beat with a whisk until smooth and fluffy. Taste for seasoning: you may wish to add a teaspoon of plain salt.
Place in two-quart casserole or a refrigerator container. Cool and cover.
To serve:
Place desired amount in greased casserole, dot with butter or margarine and sprinkle with paprika or top with lots of cheese (freshly grated, if possible).
Bake at 350℉ (180℃) for 30 to 45 minutes, uncovered, until heated through.
Tastes best if refrigerated 12 to 24 hours before baking. Can be kept in covered refrigerator container for up to two weeks.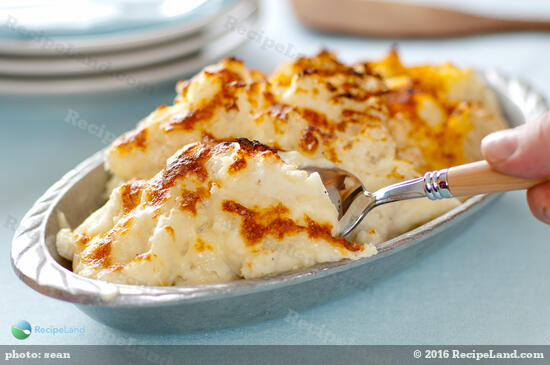 POTATOES WITH CHIVES:
Instead of 2 teaspoon onion salt, use 1 teaspoon garlic salt or onion salt, 1 teaspoon plain salt, and one tablespoon minced freeze-dried or fresh chives.
Nutrition Facts
Serving Size
264g
(9.3 oz)
Amount per Serving
Calories
342
44% of calories from fat
Trans Fat 0g
Total Carbohydrate
15
g
15%
Sugars g
Vitamin A 11%
•
Vitamin C 26%