Brownies with Peanut Butter Topping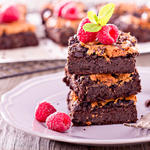 Brownies with Peanut Butter Topping recipe
Metric
Directions
Preheat oven to 350℉ (180℃).
Sift flour, cocoa, baking soda and salt onto wax paper.
Beat butter, sugar, eggs and vanilla in a medium-size bowl with electric mixer until fluffy.
Stir in dry ingredients; beat until smooth.
Pour into greased 13x9x2 inch pan.
Bake 30 minutes.
Remove pan from oven to wire rack; sprinkle with peanut butter chips.
Let stand about 5 minutes, then spread evenly with a small metal spatula.
Cool; cut into bars.