Baked Brie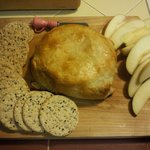 A simple baked Brie with honey in puff pastry.
Metric
Directions
Preheat oven to 400℉.
Roll out dough to 1/8" thick and about 12" x 12".
Spread honey on dough and place brie over the top.
Wrap the pastry over the cheese and tuck the edges underneath.
Beat the egg and water in a small bowl and brush it over the pastry.
Bake on a parchment lined baking tray for 20 to 25 minutes or until pastry is golden brown and puffed up.
Allow to cool 15 to 20 minutes before cutting into it.
Serve with sliced apples, crackers, olives, or toasted bread slices.