Whole Grain 5 Seed Crackers
These are the best crackers ever. We have been serving these crackers to our guests a few times, everyone just raves about how addictive-ly delicious they are. Serve these crackers with cheese, hummus, or just having them directly is yummy enough!
Directions
Mix all the ingredients in a bowl until a firm ball is formed. Knead for 3 minutes, and cover the dough with plastic wrap or damp kitchen towel. Rest for another 20 minutes.
Divide into 2 portions. Prepare 2 baking sheets lined with either parchment paper or silicon mats.
On a lightly oiled work surface, roll each piece of dough thinly into a rectangular shape to fill the baking sheets.
Using a pizza wheel, bench scraper, or cookie cutter, cut the rolled dough into shapes and sizes of your choice. Transfer crackers with a spatula onto prepared baking sheets. Keep ¼ inch space.
Preheat oven to 350℉ (180℃). Bake for 10 minutes at 350ºF. Rotate and bake for another 10 minutes, or until the crackers are deeply browned.
Glaze (Optional):
Brush with honey-water mixture and sprinkle with kosher salt immediately after removing from the oven (optional). The crackers will get crisp as they cool. Storage in an air-tight container for up to 2 weeks.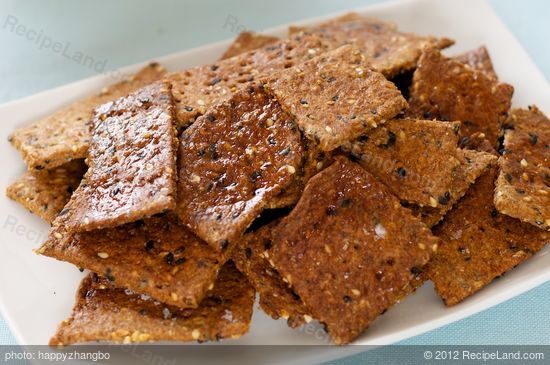 Nutrition Facts
Serving Size
39g
(1.4 oz)
Amount per Serving
Calories
105
46% of calories from fat
Trans Fat 0g
Sugars g
Vitamin A 0%
•
Vitamin C 0%