Sunday Morning Sourdough Pancakes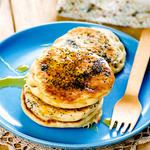 Sunday Morning Sourdough Pancakes recipe
Metric
Directions
Mix the active starter, eggs, powdered milk, and brown sugar.
Stir well with a wooden or plastic spoon.
Add either water or whole wheat flour until the batter reaches the desired consistency.
This will require a little experimentation since some like the batter to be as thin as melted ice cream, while others like it to pour thick and slowly.
Stir in the teaspoon of baking soda, allow to stand for a minute, then pour onto a hot, oiled griddle (cast iron works best).
Flip when bubbles pop in the center and serve when both sides are golden brown.
Note: Sesame seeds, poppy seeds or flax seeds can be sprinkled on top.