Peanut-Butter Butter Cookies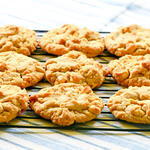 Try this basic recipe for tasty peanut butter cookies which make an excellent light snack.
Metric
Directions
Preheat oven to 350℉ (180℃).
Combine butters and sugars, add vanilla and eggs.
Add dry ingredients and shape into 1 inch balls.
Place on cookie sheet and make criss-cross design with fork.
Bake for 10 minutes.