Old Fashioned Soft Sugar Cookie/Teacakes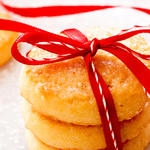 This recipe makes soft, fat sugar cookies. Great big ones too.
Metric
Directions
Stir together flour, baking powder, soda, salt and nutmeg.
In a large bowl beat shortening for 30 seconds.
Add sugar and beat until fluffy.
Add eggs, vanilla and lemon extract beat well.
Add flour mixture, beating until well mixed.
Divide in half.
Cover and chill 3 hours or until easy to handle.
For large cookies, roll dough ½ inch thick.
Cut into rounds with a 3 inch cookie cutter.
For small cookies, roll dough ⅜ thick and cut into rounds with a 2 inch cookie cutter.
Place 2½ inches apart on ungreased cookie sheet.
Sprinkle with addition sugar(colored red and green sugar is nice for xmas time).
Bake in a 375 oven for 10 to 12 mins.
Remove and cool. Makes 24 large or 48 small cookies.
The large are the best it looks like a nice big sugar cookie.