Homemade Oyster Sauce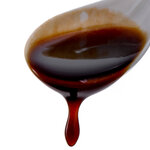 Oyster sauce is so commonly used in Chinese stir-fry. Of course you can always find the bottled oyster sauce in the grocery store. This recipe will introduce you how to make your own oyster sauce at home, it's going to be super tasty and without any preservatives.
Metric
Directions
Drain the oysters and reserve the liquid.
Add the oysters in a food processor, processe until finely chopped.
Place the oysters in a medium saucepan.
Pour the reserved liquid into saucepan and bring to a boil over high heat.
Reduce the heat, cover and simmer for 8 to 12 minutes.
Remove the saucepan from the heat, add the salt and let cool completely.
Drain the mixture through a fine sieve into the saucepan. Discard the pieces in the sieve.
Measure the liquid, adding 2 tablespoons of soy sauce to each ½ cup liquid.
Add another 1 tablespoon of soy sauce in the end, bring to a boil over high heat.
Reduce the heat and simmer gently for 10 minutes.
Allow to cool to room temperature and pour into a jar that has been boiled in the boiling water for 15 minutes.
Seal tightly and store in the refrigerator until ready to use.
It can be kept, refrigerated for approximately 1 month.