Grilled Jalapeno Buffalo Burgers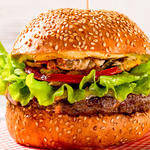 Grilled Jalapeno Buffalo Burgers recipe
Metric
Directions
Prepare Hot Chile Sauce and set aside. Mix remaining ingredients.
Shape into 6 patties, each about ½ inch thick.
Brush grill with vegetable oil.
Grill patties about 4 inches from the coals, turning once, until they are done to your taste, 4 to 6 minutes on each side for medium doneness.
Serve on buns with lettuce and tomato slices if desired.