Cherry Crisp with Oatmeal & Nut Topping
Directions
Preheat the oven to 375℉ (190℃) F.
In a medium pot, add sour cherry and syrup, bring to a boil. Lower the heat to medium-low.
Add cornstarch to reserved 1/2 cup syrup, and stir until well mixed. Pour into boiled cherry and syrup. Stir until syrup is thickened, 2 to 3 minutes.
Remove from heat, and stir in honey, almond extract, vanilla extract, and salt. Transfer cherry mixture into a nine by 9-inch or an equal sized baking dish .
In another bowl, add all crumble ingredients, and work with your fingers until the mixture becomes a coarse meal.
Sprinkle the crumble evenly over cherry mixture. Bake in the oven for about 40 minutes or until crumbs becomes golden and brown.
Remove from the oven, and let cool slightly. Serve warm or at room temperature with ice cream or whipped cream if desired.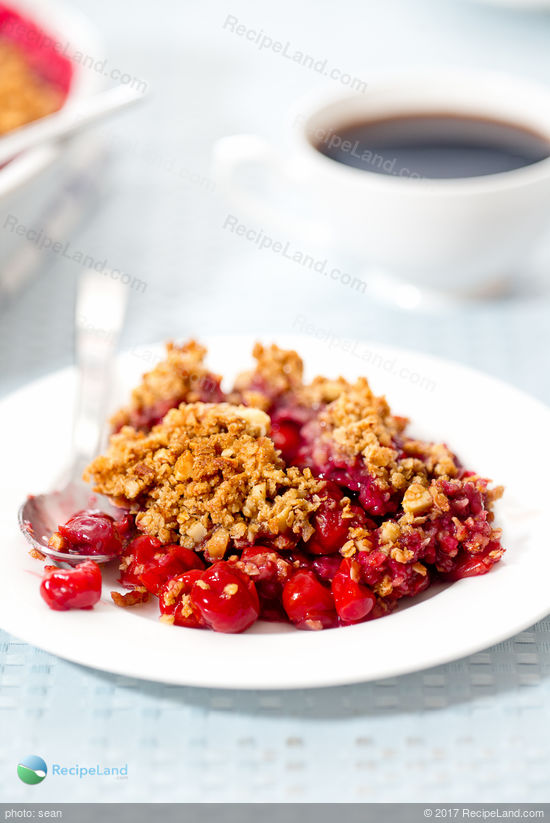 We've made this cherry crisp with canned tart cherries, with frozen cherries from the previous season, and with fresh cherries. It's our go to cherry crisp recipe. For a cherry crisp with sweet cherries reduce the amount of sugar.
---
---