Breakfast Raisin Scones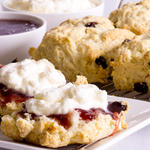 Raisin Scones recipe
Metric
Directions
Preheat oven to 425℉ (220℃).
Lightly flour baking sheet.
Combine 3¼ cups flour, cream of tartar, baking soda and salt in large bowl.
Cut in butter using pastry blender or two knives until mixture resembles coarse meal.
Stir in raisins and sugar.
Mix in enough milk to form soft but not sticky dough.
Turn dough out onto lightly floured surface and knead gently until dough holds together.
Roll dough out to thickness of ½ inch.
Cut out rounds using 2-inch cutter (push straight down; do not twist), or cut into 2-inch squares.
Arrange rounds on prepared sheet.
Dust tops lightly with flour.
Bake scones until puffed and golden, about 10 minutes.
Serve immediately with jam and cream if needed.