Best Chocolate Brown Sugar Cookies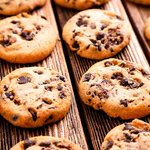 Chocolate Brown Sugar Cookies recipe
Metric
Directions
Preheat oven to 375℉ (190℃).
Cream together the butter and the brown sugar, add egg and vanilla.
Mix well.
Add honey.
Measure flour and baking soda (I usually just mix the soda in with the flour.)
Add flour and soda to batter a little at a time and mix.
Add chocolate chips.
Drop by spoonfuls onto an ungreased cookie sheet and bake for 5 to 8 minutes at 375℉ (190℃).
NOTES: * Chocolate chip cookies with honey and brown sugar.