Sweet Squash Soup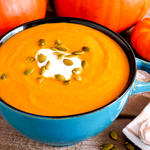 Sweet Squash Soup recipe
Metric
Directions
Put the whole squash in a microwave oven and cook on high power for 8 minutes.
Peel the squash and cut into cubes.
Place all of the ingredients in a large soup pot and simmer over medium-low heat for 45 minutes.
Place the soup in a blender or food processor, in batches, and blend until smooth and creamy.
Serve with pumpkin seeds and a swirl of sour cream if desired.