Superbowl Oven-Fried Jalapeno Poppers (low-fat)
These stuffed jalapeno peppers are "fried" in the oven to cut the fat in a big way. A mixture of refried beans and cheese creates a warm and gooey inside with the cornmeal delivering a delicate crispy outside. Perfect for New Years or Superbowl gatherings.
Directions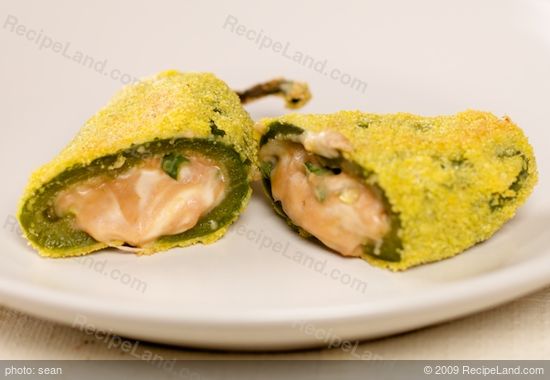 Using a paring knife make a slit down the side of each of the jalapeno peppers to remove the seeds after "blanching".
Place peppers in large microwave safe dish. Cover and microwave on High until just softened, about 5 minutes.
While the peppers are blanching, mix refried beans, cheese, scallions ad ½ teaspoon salt in a small bowl. When peppers are cool enough to handle, scape out the seeds using a a small spoon.
Fill each pepper with enough bean filling to fill it but be careful not to over-stuff it. Close the pepper around the filling. The mixture will help to keep the pepper in shape.
Preheat oven to 450℉ (230℃) F.
Coat a large rimmed baking sheet with cooking spray. Put the flour in a shallow dish. Beat eggs lightly in another shallow dish.
Mix well cornmeal and the remaining ½ teaspoon salt in another shallow dish.
Roll each stuffed pepper in flour, shaking off any excess. Dip in eggs and let any excess drip off. Then roll in the cornmeal mixture.
Put the peppers on the prepared baking sheet. With cooking spray Generously coat all sides of peppers. Bake peppers for 5 minutes.
Turn all the peppers over and go on baking until hot and the filling begins to melted, about 5 minutes. Let them cool for 2 or 3 minutes, serve warm.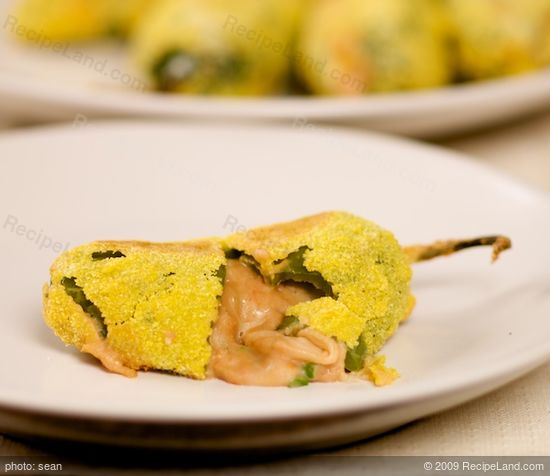 Nutrition Facts
Serving Size
111g
(3.9 oz)
Amount per Serving
Calories
223
31% of calories from fat
Trans Fat 0g
Sugars g
Vitamin A 5%
•
Vitamin C 6%