Grilled Jumbo Shrimps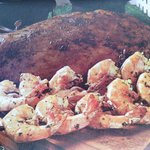 Quick, easy plump and juicy shrimp are perfect for the barbecue.
Metric
Ingredients
2 pounds shrimp; jumbo
3 cloves garlic; minced
1 medium onion minced
1/4 cup parsley; minced
1 teaspoon basil; dried
1 teaspoon Dijon mustard
1/2 teaspoon salt
1/2 cup olive oil
1 each lemon;juiced
Directions
Split the shrimp shells up the back, remove the veins but leave the shells on. Mix together all remaining ingredients in a large bowl, add the shrimp, toss and marinate in the refrigerator for 1 hour.
Grill over a hot preheated barbecue for about 3 minutes per side. For easier flipping place shrimps onto soaked wooden skewers if desired.
Serve with plenty of napkins or with fingertip towels that have been wrung out with hot water. Each guest will shell their own.
Adding some ginger to the marinade will give the shrimp an Asian flair.