Fruit Salad with Lemon Cream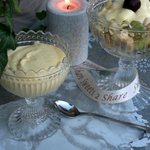 A fresh and light dessert! I often serve this after a big dinner or as a alternativ with my cakes at our birthday pary. It is popular!
Metric
Directions
Stir together yolks and 3 tablespoons sugar.
Add corn starsh and stir smooth. Set the bowl aside.
Boil the cream with the butter and remaining sugar. Pour half the boiling cream into the bowl with egg mixture, stir well and pour everything back into the pan over medium heat.
Add half of the lemon juice and rind, mix well, taste ! The rest of tha juice you can ad until you have the taste you like on thr cream. Stir the cream so it dont burn. The cream should be below the boiling point. After about 5 minutes the cream is ready. Done consistency is as vanilla cream. If you want a thickeer consitency, slightly reduce the amount of hevy cream.
Pour the cream into clean bowl and cover with plastic wrap directly onto the surface so it can not form the crust / snerk. Whip the cream with a little whip or fork just before serving!
My recipe for fruit salad is: 1 piece of every fruit I like + strawberries, a little coarsely choowlpped walnuts, some raisins. Serve fruit salad in a big bowl and the lemon cream in a separat bowl. You can also make indevidual servings, ad lemoncream as topping just befor serving.