Cheese Enchiladas with New Mexican Chile Sauce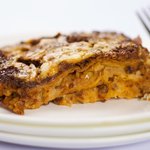 This is a cheese enchilada casserole. Beans, cheese, onions, Mexican chile sauce (not very spicy) and corn tortillas are layered in a casserole and then it's baked in the oven until bubbly.
Metric
Directions
For the enchiladas:
Preheat oven to 400°F.
Coat a 7-by-11-inch (or similar-size 2-quart) baking dish with cooking spray.
Mix well beans and yogurt in a small bowl.
Spread evenly ¼ cup of the sauce in the baking dish.
Arrange 4 tortillas in the dish, overlapping them to cover the bottom.
Top with half the bean mixture, using the back of a spoon to thinly spread it.
Scatter ⅔ cup cheese and 2 tablespoons minced onion on top of the beans.
Top with ⅓ of the remaining sauce, 4 tortillas, the remaining bean mixture, ⅔ cup cheese and the remaining 2 tablespoons onion.
Spread half of the remaining sauce evenly on top and cover with the remaining 4 tortillas.
Top with the remaining sauce and the remaining ⅔ cup cheese.
Bake the enchiladas until hot and bubbling, 16 to 20 minutes.
Let cool for few minutes before serving.
Serve with minced onion, if desired.