Flaky Garlic Scape Buttermilk Biscuits with Swiss Cheese
Turn garlic scapes into fluffy, cheesy buttermilk biscuits. The garlic scapes add a fresh mild hint of garlic to the savory biscuits which is perfectly complimentary.
Directions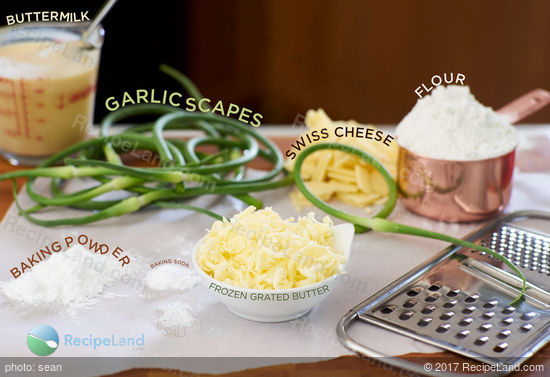 Preheat the oven to 400℉ (200℃). Line a baking sheet with non-stick baking mat, parchment paper or just grease the sheet.

Sift together the flour, baking powder, baking soda and salt into a medium bowl. Grate the frozen butter and toss together with the flour mixture in the bowl. Add the swiss cheese, toss; add the garlic scapes toss. Stir in the chilled buttermilk until just incorporated; do not overmix.

Turn onto a floured surface and knead a few times to bring the mixture together quickly. Roll out or pat into a circle, about ½ inch (1 ¼ cm) thick. Cut using a 2 ½ inch (7 cm) round cutter and transfer to the prepared baking sheet. Bring any scraps together, roll out and cut the remaining biscuits.

Bake for 20 minutes, turning half-way through baking until golden brown and puffed to flaky biscuit perfection.
How to make fluffy biscuits
Freezing the butter and then grating helps to create flakier fluffier biscuit. Make sure the buttermilk it well chilled.
Try to manipulate the biscuit dough as little as possible. Overworking the dough will toughen your biscuits. Stir in the buttermilk only just barely enough to moisten and almost don't even knead, just to bring the dough together.
Buttermilk Tips
We use reconstituted buttermilk powder which we obtain as a bulk food store (or order online). This way we always can have buttermilk on hand.
If you don't have buttermilk on hand, use milk with 1 tablespoon of lemon juice or vinegar added. Boom; instant buttermilk substitute.
Cheese
Feel free to mix it up or use whatever your favorite cheese may be. Swiss cheese, Gruyere, and cheddar cheese biscuits all taste great!
Before baking, top each biscuit with a bit of extra cheese that you thoughtfully reserved.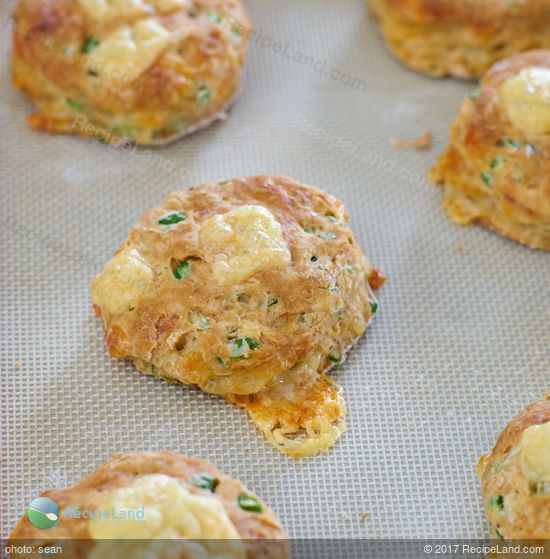 Don't have garlic scapes?
Substitute ¼ cup of garlic chives or even regular chives, scallions and if you like add 1 clove of minced garlic to the buttermilk for an extra punch of garlic.
How to prepare garlic scapes
Trim the tips just slightly above the flower. The longer slender curly tip can be tough. See photo for reference.