Easy Pasta e Fagioli Soup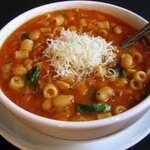 The recipe was given to me a dozen years ago at a soccer game. It is a delicious version of a famous Italian soup.
Metric
Ingredients
2 T. olive oil
2 med onion, chopped
1c. chopped yellow or green pepper, or combination of both
1 c. chopped celery
1-2 c. chicken broth
2 cans tomato puree (16 oz. each)
2 cans diced tomatoes (Italian style is good)
6 cups water or more chicken broth
Salt, basil, oregano, pepper (All to taste)
2-3 cans Cannellini beans (some Italian bean), drained
1# pasta, cooked and drained. (Salad macaroni works well)
Chiffonade (slices) of fresh basil to put on top soup when serving, also fresh grated parmesan
I frequently also saute spicy turkey Italian sausage and add it to the soup.
Directions
Heat oil in large soup pot. Add onion, peppers, and celery; sauté Add broth; cover and simmer 10 minutes Add tomato purée, water or broth, salt, basil, pepper; Simmer for 45 minutes, stirring occasionally. Add beans; simmer 5 minutes.
Add macaroni, stir well until mixed. Heat til piping hot.
Serve with parmesan cheese and toasted garlic bread.
Salad to serve with soup: Cherry tomatoes, cut in ½ if the are large Red, yellow, orange mini peppers, seeds removed and cut in rings Green onions sliced Persian Cucumbers, sliced Fresh basil, sliced Sliced black olives (optional) Sliced (bottled) pepperoncini Hormel Mini Pepperoni Slices Grated parmesan cheese Girard's Light Champagne Dressing Mix all together and serve on the side