Crunchy Breakfast Wrap for Two
Skip the fast food queue - it's easy to make your own breakfast wraps at home. Crispy home fried potatoes, egg, cheese and a sausage patty wrapped up in a crispy tortilla.
Directions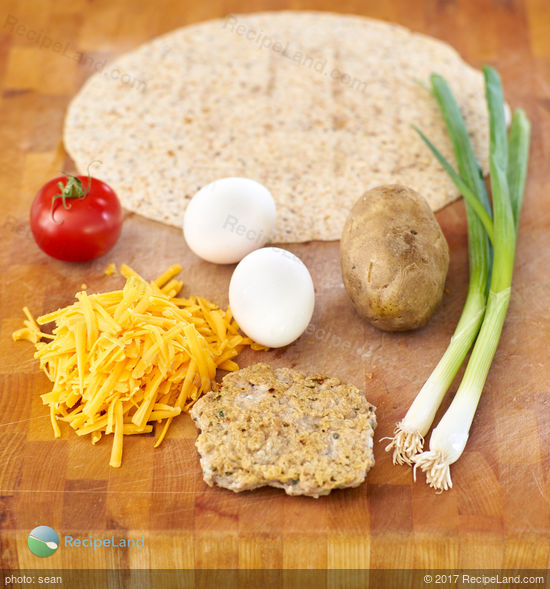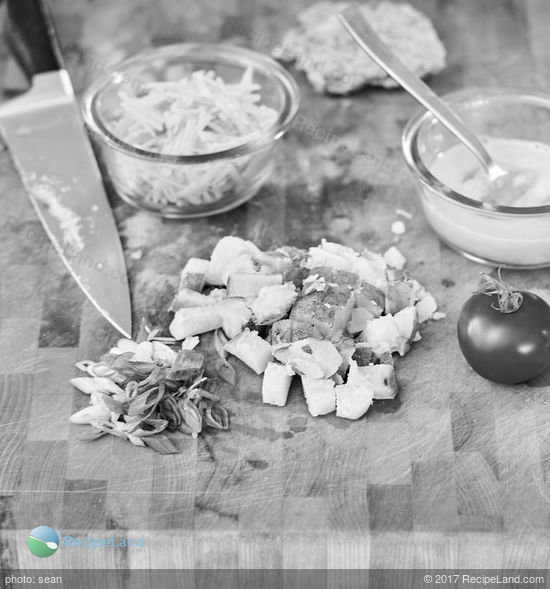 Prepare the potato
Bake (45 minutes) or microwave (5 minutes on high) to partially cook the potato. Peel if desired, but we like to scrub our potato and include the skin for a deeper potato flavor.

Chop the potato into homefry sized pieces. Add oil to a non-stick skillet over medium-high heat; once hot add the chopped potato. Cook, stirring occassionally until the potato is beginning to become brown and crispy. Sprinkle with paprika, salt and black pepper to taste.

Add the scallions and 1/2 of the diced tomato and mix well partly mashing up some of the potato. If desired, form into two patties (similar in size to the breakfast sausage patty) and fry until crisp.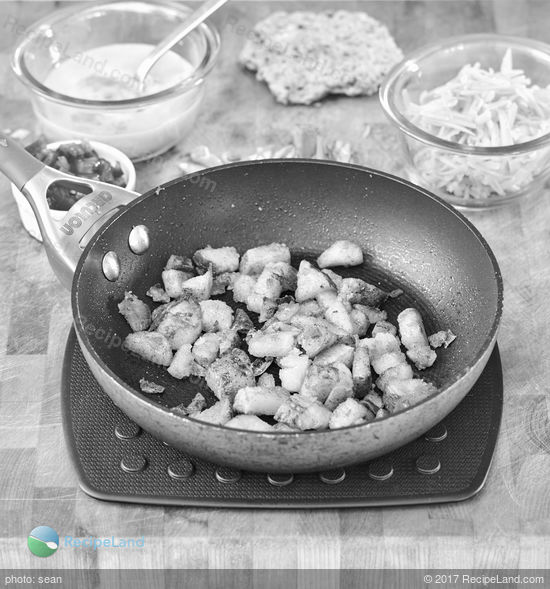 Cook the sausage patty
Cook the breakfast sausage patty (or re-heat if already cooked) in the skillet.
Scramble the eggs
Add a small amount of butter to a non-stick skillet over medium heat. Crack eggs into a small bowl and whisk with a fork. Season with a bit of salt and black pepper.

Add the eggs to the skillet. As the eggs begin to firm up, lift and move the egg to allow the uncooked egg to run under the cooked egg using a spatula; try not to overcook or brown the eggs. You're aiming for scrambled eggs.
Assembly
Lay the tortillas on the countertop or cutting board. Divide the potato, centering in the middle of the tortilla.

Top each with the breakfast sausage.

Top each sausage patty with ½ of the scrambled eggs, followed by the shredded cheese.

Sprinkle with the remaining tomatoes (optional) and wrap over the entire stack. Start by folding up on end of the tortilla into the center of the stack. Then fold the next edge of the tortilla up to meet in the center. Continue, in this manner, using the fingers of your other hand to hold the all of the folds in place. You will end up with 4 to 6 folds depending on the size of your tortilla (and how generous you were with the ingredients!).
Delivering the crunch
Heat remaining oil in a non-stick skillet over medium heat. Carefully transfer the wraps to the skillet, seam-side down to brown and seal. You may push down lightly on the wrap to help keep things together if you've overstuffed. :)

Brown for 2 to 3 minutes, then flip over the wrap over to brown the other side.
Serve immediately.