Creamed Shrimp Filling (for Vol-au-Vent or Bouchées)
This recipe was inspired by Julia Child's Mastering the Art of French Cooking Vol. 2. It was developed as a shrimp based filling for a small Vol-au-vent.
Directions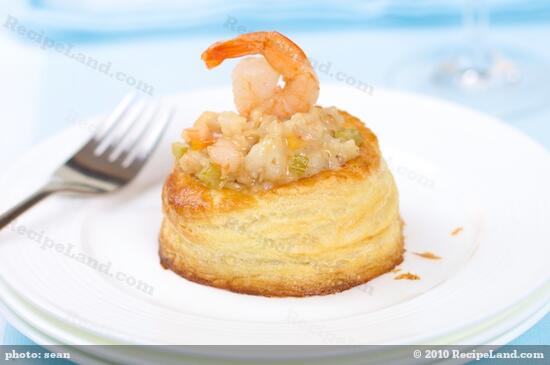 Heat canola oil in a non-stick skillet over medium high heat.
Peel and clean the shrimp. Leave some with the tails intact for garnish if desired.
Add the shrimp and cook until firm and pink, remove the shrimp and set aside.
Add the finely diced onions carrots and celery and cook stirring occasionally until softened and onions are translucent.
Add the white wine, bay leaf and thyme, cook until almost all the liquid has been evaporated.
Mix the butter and cornstarch together to form a roux. Add it to the skillet and cook for one minute.
Add the stock and reduce until thick. Add cream. Taste and adjust seasoning adding salt and pepper as desired.
Cut the shrimp into bite sized pieces. Reserve 4 whole shrimp with tail attached if desired for garnish. Add the shrimp into the sauce and heat through.
Use for filling empty vol-au-vent's. Top each with one of the reserve shrimp for garnish if desired.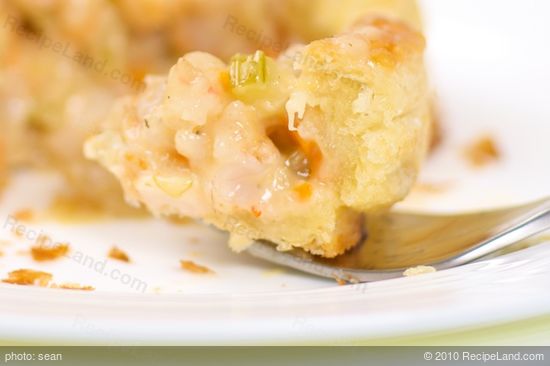 Nutrition Facts
Serving Size
188g
(6.6 oz)
Amount per Serving
Calories
156
44% of calories from fat
Trans Fat 0g
Sugars g
Vitamin A 81%
•
Vitamin C 9%