Showing 1 - 15 of 1467 recipes
Must contain (any of)
Must NOT contain
Select a nutrition filter:
Select time to filter by:
(1)

This delicious chicken veggie stir-fry is packed with goodness, and it takes less than 15 minutes to make. Serve it with some brown rice to add extra fibre.

Trans-fat Free, Low Carb
(1)

This spicy Indian dish is best served with basmati or jasmine rice, warm nan, and ready-made mint chutney. A mango sorbet would be a nice finish to this meal.

added about 4 years ago

Trans-fat Free
(1)

This recipe was inspired by Julia Child's Mastering the Art of French Cooking Vol. 2. It was developed as a shrimp based filling for a small Vol-au-vent.

added almost 4 years ago

Trans-fat Free, Low Carb
(4)

Very tasty. Just enough sauce to carry the flavors and meld the different types of protein together. Went a bit overboard by making our own Chorizo and homemade penne pasta!

Trans-fat Free
(3)

Excellent! Very authentic rendition of this classic soup. Very fresh and clean tasting with great flavor. It even beats the hot and sour soup from my favorite Chinese restaurant.

added about 4 years ago

Low Fat, Low in Saturated Fat, Low Cholesterol, Cholesterol-Free, Trans-fat Free, Low Carb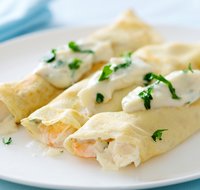 Rich and delicious. We used swiss instead of Gruyere and let out the monk fish using extra scallops. Loved the sauce, thick, creamy and rich with a subtle garlic flavor throughout. The creamy sauce enveloped the seafood stuffed crepes and then we topped them with some leftover sauce and a sprinkled on some parsley for color. Delicious, decadent breakfast. Fairly easy to make too.
Trans-fat Free, Low Sodium
(2)

Quick and easy to prepare. Crispy veggies, perfectly cooked shrimp with a nicely balanced sweet and sour glaze that highlight the flavor of the tender shrimp.

added almost 3 years ago

Low Fat, Low in Saturated Fat, Trans-fat Free
(2)

Clean fresh greek flavors make this recipe a winner. Very clean and fresh tasting with a perfect combination of flavors.

Trans-fat Free, Good source of fiber
(1)

The best seafood stir-fry I have ever tried!

Trans-fat Free, Good source of fiber
(1)

Super quick and easy, shrimp in a lemony garlic and butter sauce. What could be better?

Trans-fat Free, Low Carb, Sugar-Free
(1)

This is really good and so easy. I liked the addition of the jicama. Never used it in stir-fry before, but will from now on!

Low Fat, Low in Saturated Fat, Trans-fat Free, Good source of fiber
(2)

An authentic Chinese Shrimp Wonton soup. Prepared wonton wrappers make preparation easy.

Trans-fat Free
(1)

Low in Saturated Fat, Trans-fat Free, Low Carb
(1)

Almost all my sauce is inside florets and around shrimps. I like it because broccoli florets taste delicious with the quite strong garlic flavor of the sauce.

added about 3 years ago

Low in Saturated Fat, Trans-fat Free, Low Carb, Sugar-Free
(1)

I seasoned the fish with a bit salt and black pepper, cooked the asparagus in a hot skillet with a bit olive oil and freshly minced garlic, then seasoned with salt and black pepper, baked for 10 minutes, and it came out absolutely delicious and super light!

Trans-fat Free, Low Carb, Low Sodium
Showing 1 - 15 of 1467 recipes