Protein Peanut Crunch Bars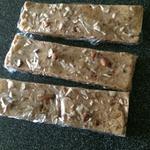 Awesome protein bars you can make at home...and it won't burn a whole in your pocket! :)) So easy to prepare too!
Metric
Ingredients
1 Tbsp honey
1 tsp vanilla
1/2 c cottage cheese
1/2 tsp cinnamon
1/4 c water
1 c chunky peanut butter
5 scoops (equal to 125 g) vanilla or peanutbutter protein powder
1/4 c. oat flour (add more if needed)
almonds(sliced)
Directions
Add honey, vanilla, cottage cheese, cinnamon, and water to a blender and puree.
Transfer to a mixing bowl and add peanut butter. Mix.
Add protein powder and mix. I like to eventually use my hands.
Add oat flour and combine again.
Get a 9x9 baking pan and line with plastic wrap for easy removal. Be sure to have enough to cover the top of the bars as well.
If desired, press sliced almonds on top before wrapping.
Chill in refrigerator for 1-2 hours. Serves 8 small bars or 4 large.