Pesto Risoni with Mango-Curry Shrimps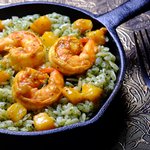 If you want a scrumptious meal that's ready in 10 minutes which is not only mouth-wateringly delicious, but that's also nutrient rich and balanced, then this pesto risoni with mango-curry shrimps is the recipe for you!
Metric
Ingredients
For the Shrimps:
150g/5.25oz shrimps/prawns, peeled, deveined
15ml/1 tbsp olive oil
1/2 tsp curry powder
50g/2oz ripe mango, cut into small cubes
15ml/1 tbsp lemon juice
pinch of salt
For the Risoni:
100g/3.5oz risoni, uncooked
20g/0.75oz cilantro/coriander
4g/0.15oz garlic, peeled, crushed
1/2 tsp pepper
100ml/3.5fl oz olive oil
15ml/1 tbsp lemon juice
1/2 tsp salt
Directions
Bring a pot of water to a boil.
Combine shrimp, olive oil, curry powder, lemon juice, and salt in a bowl. Set aside.
Cook risoni for 8 minutes or until al dente.
While pasta is boiling, prepare the pesto. Combine cilantro, garlic, pepper, olive oil, lemon juice, and salt in a food processor and pulse until smooth. Set aside.
Cook the shrimp. In a lightly oiled pan, add the shrimps together with the marinade. Cook for two minutes on one side. Flip the shrimps and add in the mangos. Cook for another 2 minutes.
Drain the risoni and toss in a bowl with the cilantro pesto.
Transfer risoni to a serving plate and top with the shrimps and mangos.