Irish Cabbage and Bacon
A simple yet flavorful and very hearty dish of Irish style cabbage and bacon. Only a few cost effective ingredients that turn into a flavorful dinner.
Directions
Cut the cabbage in half and boil for 15 minutes in salted water.
Drain, and soak in cold water for 1 minute, then drain well and slice.
Line the bottom of a casserole with half the bacon slices, then put the cabbage on top and add the seasonings.
(optional) Render out some of the fat from ½ the bacon slices and then use them to line the bottom of the casserole. This will reduce the amount of fat in the end result but the slices will shrink and not completely cover the bottom of the casserole.
Add enough just enough stock to barely cover, then put the remaining slices of bacon on top.
If using a stove-top cast iron casserole, cover and simmer for an hour, until most of the liquid is absorbed.
If using a casserole that can't be placed on the burner (anything that isn't cast iron) cover with foil or a lid and bake in the oven at 350℉ (180℃) F for about an hour until most of the liquid is absorbed.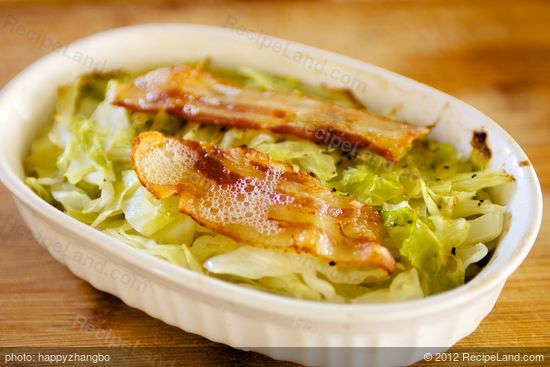 If desired you may wish to broil for several minutes to crisp up the bacon on top (although this would be non-traditional).
Nutrition Facts
Serving Size
418g
(14.7 oz)
Amount per Serving
Calories
196
37% of calories from fat
Trans Fat 0g
Sugars g
Vitamin A 27%
•
Vitamin C 209%