Fresh Pumpkin Puree (for Pumpkin Pie Filling)
Homemade pumpkin purée. Roasting and draining is the secret to a perfect pumpkin pie filling that will reach canned pumpkin consistency. Use sugar pumpkins instead of big pumpkins.
Ingredients
3
pounds

pumpkin


2 - 8 inch (25 cm) small sugar pumpkins
Directions
If you merely cook pumpkin until tender and puree the resulting mixture will be too watery. Instead, we roast, purée and then drain in this recipe to achieve a perfect result.
Use small sugar pumpkins (~8 inches, 25 cm in diameter) instead of the larger "jack-o'-lantern" pumpkins. Sugar pumpkins are drier, denser and more flavorful creating a smoother texture that is comparable to canned pumpkin.
Two small sugar pumpkins should yield just over two cups of pumpkin purée, about 16 ounces which is just the right amount for most pumpkin pie recipes.
Preheat your oven to 375℉ (190℃) F. Cut each sugar pumpkin in half and scoop out the pulp and seeds. We use a grapefruit spoon which seems to help clean out the pulp but a soup spoon works just fine.

Line a rimmed baking sheet with parchment paper. Place pumpkin halves cut side down on the paper and roast for 45 minutes until soft and easily pierced with knife, fork or skewer.

Carefully flip the pumpkin halves cut side up and return to the oven and roast for another 30 minutes.

Remove from the oven and cool for about 5 minutes. Scoop out the flesh from the skins into the bowl of a food processer. Process until very smooth, several minutes.

Transfer the pumpkin purée to a fine-mesh strainer or colander lined with cheesecloth and set over a bowl. Drain for at least one hour.
The resulting purée should stand up on its own only slightly slumping when piled high. If the puree is too thick (unlikely), you can thin it with some of the drained liquid. If it's too runny allow it to drain further.
Fresh pumpkin purée tastes cleaner, pleasantly vegetal and more like pumpkin compared to a pie made with canned pumpkin. The pumpkin flavor tends to come through over the spices which tend to dominate when using canned. The color is also slightly less intense, or more natural.
The purée can be stored, covered, in the refrigerator for several days, or frozen in an air-tight zipper bag for up to 3 months before use.
Save those pumpkin seeds!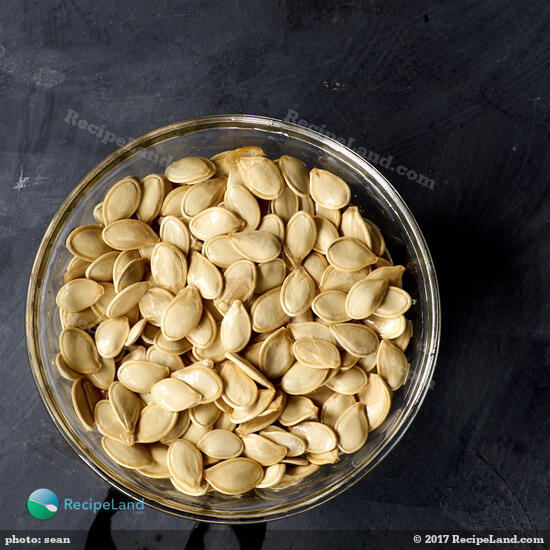 Don't waste those pumpkin seeds. Rinse them off and use them to make all kinds of flavored roasted pumpkin seeds for a healthy snack!
Nutrition Facts
Serving Size
170g
(6.0 oz)
Amount per Serving
Calories
57
8% of calories from fat
Trans Fat 0g
Sugars g
Vitamin A 530%
•
Vitamin C 12%