Chicken Hotpot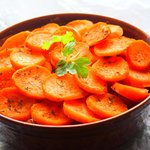 It's time for another NutriPic recipe and this week chicken hotpot won the vote so we've created a delicious and nutritious chicken and vegetable hotpot with a sweet potato topping – it's divine.
Metric
Ingredients
2 sweet potatoes
1 tbsp. coconut oil
1 onion, chopped
145g/5oz mushrooms, sliced
2 chicken breast fillets, chopped
1 broccoli, chopped
85g/3oz sweetcorn
85g/3oz frozen peas
1 tbsp. buckwheat flour
1 tsp. dried mixed herbs
200g/7oz tinned chopped tomatoes
235ml/8.5fl oz chicken broth
Fresh parsley to garnish
Directions
Preheat the oven to 200C/390F.

Place the sweet potatoes into a pan of boiling water and simmer for 15-20 minutes.

Add the coconut oil to a frying pan, then fry the onion and mushrooms until softened.

Add the chicken to the frying pan, fry until cooked, then add the mixed herbs and flour. Mix until everything is well combined.

Pour in the chicken broth and tinned tomatoes, bring to the boil then leave to simmer for 5 minutes.

Meanwhile steam the broccoli for 3 minutes.

Mix the broccoli into the chicken mixture, then add the frozen peas and sweetcorn.

Place into the bottom of your baking dish.

Peel the sweet potatoes and chop into slices. Layer on top of the chicken.

Bake for 30 minutes then serve.