Bo's Peanut Butter Cookies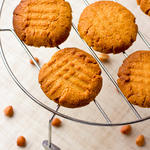 Cookies
Metric
Ingredients
3/4c Jiff creamy peanut butter
1/2c Crisco
1 1/4c Light brown sugar
3Tbsp Milk
1Tbsp Vanilla
1 Egg
1 3/4c Flour
3/4Tsp Salt
3/4Tsp Baking soda
Directions
Preheat oven to 375℉ (190℃) F.
In large bowl, combine peanut butter, Crisco, brown sugar, milk, and vanilla.
Beat w/electric mixer. Add egg and blend.
Combine flour, salt, and baking soda; Add to mixture and blend.
Place on cookie sheet and use fork to add crisscross pattern to top of each.
Back at 375℉ (190℃) for 8 minutes each rotation.