How to prevent watery coleslaw
All too often, coleslaw dressing turns thin and watery. Preventing watery slaw isn't hard, it just requires application of this preparation technique.
Shredding
It starts with the shredding. The fresh, squeaky leaves of the cabbage require a sharp knife or the slicing blade of a food processor for best results. Generally it is best to quarter and core the cabbage.
When slicing by hand with a sharp knife, take apart each quarter and assemble into layers or stacks of leaves. Then with a rocking motion and a sharp chef's knife you can achieve fine shreds of cabbage with some rustic personality.
Using a food processer
Use the slicing blade, NOT the shredding blade of a food processor
Alternatively, trim the cabbage into chunks that will fit into the hopper of a food processor fitted with the slicing, not the shredding, blade. The shredding blade create bits of cabbage too fine, reminiscent of KFC coleslaw, while the slicing blade creates beautifully even shreds with much more personality.
Preventing watery slaw
After shredding, most coleslaw recipes simply toss the freshly shredded cabbage with a quickly prepared home made dressing. Within an hour the cabbage will begin weeping liquid which begins to dilute the dressing and the cabbage ends up sitting in a puddle of watery dressing that won't cling to the leaves.
To prevent this tear-jerking weeping effect, a little salt goes a long way.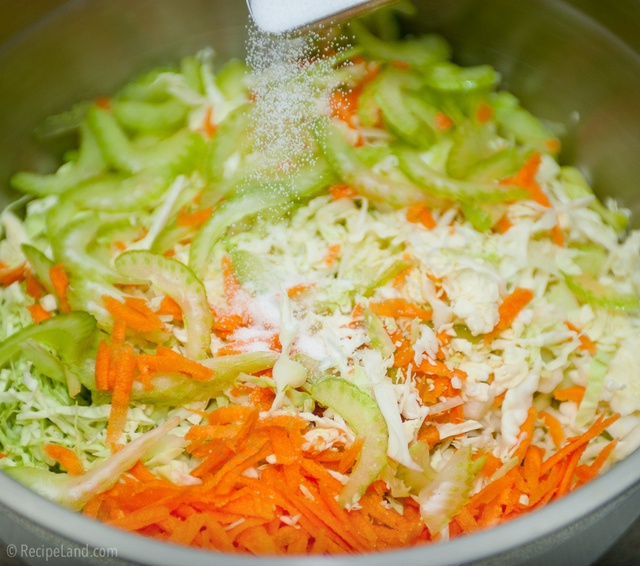 Place your shredded cabbage into a colander or a large mesh strainer over a large bowl. Sprinkle one teaspoon per pound of cabbage over the shreds and toss to evenly distribute the salt throughout the cabbage.
Let stand for at a minimum one hour, preferably 4 hours in total. When you check, 4 hours later, you will be amazed at how much liquid has exuded from the slaw while retaining a pickle-crisp texture.
Press out as much liquid as possible (don't squeeze or wring) and then pat dry with paper toweling.
Prepare your dressing as directed by your favorite coleslaw recipe and it will remain perfectly tender-crisp and puddle free!
One of our favorites for an All-American style coleslaw is Creamy Lemon Buttermilk Coleslaw.
Properly prepared, the humble and inexpensive cabbage is worthy of a all sorts of tastebud tingling flavor enhancments such as Asian Coleslaw.
 Check out all of our coleslaw recipes here.