Momos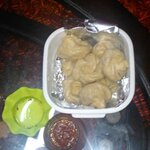 This is undoubtedly an innovative low calorie snack! flour wrappers are filled with a healthy filling of Soyabean and cabbage, and steamed to make an appetizing snack. Follow the exact procedure and make the world's best momos!
Metric
Directions
Method
For the momo wrapper
Sieve the flour and salt together.
Add warm water gradually and knead well to make a soft dough.
Knead for a while until the dough is quite smooth and keep aside for 30 minutes, covered with a damp muslin cloth.
Divide the dough into 10 equal portions.
Roll out each portion into a 75 mm. (3") diameter circle to make a momo wrapper with thw help of maida.
Keep aside, covered with a damp muslin cloth.
How to proceed:
Place a momo wrapper on a flat dry surface and put 2 teaspoon of the stuffing in the centre.
Hold the edges and fold over to make a semi-circle.
Repeat with the remaining momo wrappers and stuffing to make 9 more momos.
Arrange the momos in a steamer plate and steam for 10 minutes. Serve hot.
Tip- You can use idli maker also instead of steamer. you can give any type of shape to your momos as you want