Homemade Pumpkin Puree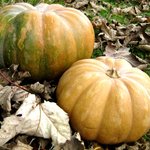 It tastes so mush better than the stuff you can buy in a can. It contains no fat, is healthy and it can be stored in the freezer for more than 6 months.
Metric
Directions
Homemade pumpkin puree!
Cut the pumpkin into big pieces; scrape out the seeds.
Put the pumpkin pieces in a large pan and add 1 cup water.
Bake 375 F for 40 to 50 minutes until the pumpkin feels soft when pierced with a skewer.
Cool for 1o minutes before removing the skin.
Cut pumpkin into smaller pieces and make pure with a fork or in a food processor.
Note: This recipe will create a pumpkin puree that is more watery compared to a canned pumpkin puree.
For best results use this updated recipe: