Easy Alfredo Tortellini with Garlic for Two
So easy, so simple, and so deliciously creamy. An easy alfredo sauce enriched with garlic coats the tortellini. Best of all, it's ready in 20 minutes flat!
Directions
Bring a large pot of salted water to boiling and cook tortellini per package directions; drain in a colander.
Heat a saucepan over medium-high heat. Melt the butter; add the garlic and cook, stirring, for approximately 1 minute.
Whisk in the flour and red pepper flakes to make a roux, about 1 minute.
Gradually add the milk and light cream (half & half), whisking continuously, until it begins to thicken, about 3 minutes.
Blend in the cream cheese, grated parmesan cheese, and nutmeg, until fully incorporated.
Taste and adjust seasoning with salt and freshly ground black pepper. Add tortellini and gently stir to combine, until heated through.
Serve immediately garnished with fresh chopped parsley.
Yes. It is really that quick and easy.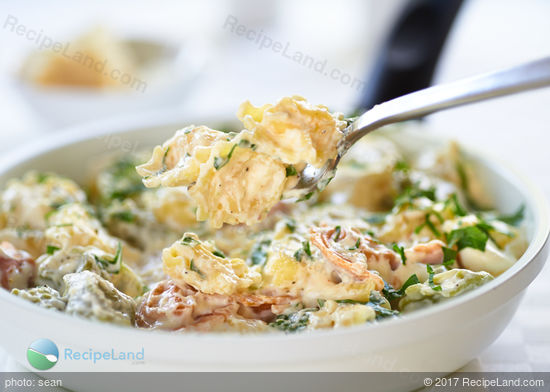 Variations
Easy Alfredo Tortellini
Leave out the garlic! :)
Alfredo Tortellini with Ham and Peas
Add ¼ cup of diced ham and ½ cup of frozen peas with the tortellini.
Nutrition Facts
Serving Size
255g
(9.0 oz)
Amount per Serving
Calories
435
72% of calories from fat
Trans Fat 0g
Sugars g
Vitamin A 26%
•
Vitamin C 6%