Vegan Flourless Chocolate Chip Zucchini Oat Brownies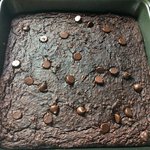 Delicious chocolate chip packed zucchini oat brownies made without flour or butter! Vegan, gluten free, optional nut free, low sugar, and high in fibre - SO YUM!
Metric
Ingredients
1/2 cup all natural unsalted peanut butter
OR 1/2 cup tahini (for nut free version)
1/4 cup maple syrup OR honey
1/2 cup unsweetened natural applesauce
1 teaspoon vanilla
1/2 cup unsweetened cocoa powder
3/4 cup oat flour (store bought or make your own, see instructions below)
1 teaspoon baking soda
1/4 teaspoon salt
1 1/2 cups shredded zucchini
1/4 cup dark chocolate chips
Directions
Preheat oven to 350 degrees F.
Grease an 8 x 8 baking pan with coconut oil.
In a large bowl whip together peanut butter (or tahini), applesauce, maple syrup (or honey) and vanilla until smooth.
Add in zucchini, cocoa powder, oat flour, baking soda, and salt. Mix until well combined.
Gently fold in most of the chocolate chips. Pour batter into prepared baking pan and sprinkle remaining chocolate chips over the top.
Bake for approximately 40 minutes. Enjoy!
Note: To make your own oat flour, place rolled oats in blender or food processor and process until they are finely ground (flour consistency).