Showing 1 - 15 of 962 recipes
Must contain (any of)
Must NOT contain
Sub-categories
Select a nutrition filter:
Select time to filter by:
(2)

Asian Style Grilled Scallops with Somen Noodle Salad and Cilantro Vinaigrette

added almost 4 years ago

Low Fat, Low in Saturated Fat, Low Cholesterol, Cholesterol-Free, Trans-fat Free, Low Carb, Sodium-Free, Low Sodium
(1)

Cheesy and delicious. The whole wheat crust is so flakey and tasty, the filling is made with sauteed onions, asparagus and gruyere cheese, packed with yumminess. It's great for an appetizer, or a vegetarian main course.

added about 1 year ago

Trans-fat Free, Low Carb, Low Sodium
(1)

This delicious savory onion tart is tasty, creamy, and absolutely delicious, a great way to impress your family or your guest.

Trans-fat Free
(1)

An exciting blend of vegetables and spices is sealed inside wrappers, then baked until crisp. Delicious and crunchy without deep frying! I'll keep it short today. I'd like to think that all or almost all of you already know how to make spring rolls. They are one of my fave finger foods and ever since I've come across the oven-baked version, I've nominated them as my no1 Savoury Stuff, way better than deep fried street food and packaged crisps/ chips.

added over 1 year ago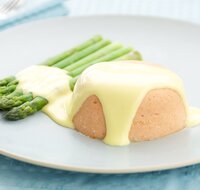 It may be a basic way to make this fish mousse, but the flavor was definitely very sophisticated. Light, silken-smooth with the creamy and rich Hollandaise sauce that Sean made from the scratch, it was an ultimate enjoyment!
Trans-fat Free, Low Carb
(1)

This is a great appetizer, the beets are delicious and easier to prepare, and I used more garlic too, very yummmy.

Low Fat, Low Cholesterol, Trans-fat Free, Low Carb, Low Sodium
(2)

A tasty cheese souffle loaded with cheddar cheese and and Canadian bacon (ham).

Trans-fat Free, Low Carb
(1)

Give a traditional tart a modern twist by using phyllo pastry that is lower in fat and calories. Caramelized onion and fennel are loaded with yumminess, a bit dijon mustard is brushed on the bottom, and some creamy goat cheese are sprinkled on top. Delicious! What more can I say?!

added almost 2 years ago

Trans-fat Free, Good source of fiber
(1)

It's the season of Swiss chard and kale. We got lots of these fresh leafy greens from our CSA farm, and I was trying to come out an idea to use them up, surfing the internet, found a recipe in New York Times, it's a chard and feta phyllo tart. Definitely got the inspiration, I used both chard and kale, instead of feta, I used cheddar; and I sauteed some fresh mushrooms and added some toasted pine nuts, which worked very well, also I used a pie plate instead of a tart pan. And it was a great success, absolutely flavorful and delicious, the phyllo crust came out flakey and crispy. Will definitely become one of my signature recipes :)

added over 2 years ago

Trans-fat Free, Good source of fiber
(1)

A decadent scalloped potato pie. Buttery and flakey puff pastry, cheesy, juicy and tender potatoes. You just can't have enough of it.

Trans-fat Free, Good source of fiber
(2)

Low-fat ricotta cheese and goat cheese on top of the phyllo, mixed mushrooms with leeks cooked in white wine, on top of the cheese, delicious...

added about 4 years ago

Low Cholesterol, Trans-fat Free, Low Carb, Sugar-Free, Low Sodium
(1)

A delicious rustic tomato pie that highlights colorful tomatoes combining them with lots of gooey mozzarella cheese and basil. This is all packaged up in a savory black olive crust.

added over 3 years ago

Trans-fat Free, Low Carb
(1)

These cute mini tarts are made with sweet cocktail or cherry tomatoes, zucchini, ricotta and mozzarella cheeses, drizzled with garlic-infused extra-virgin olive oil. The most simple ingredients create these flavorful mini tarts.

added over 2 years ago

Trans-fat Free, High Fiber
(1)

Mini-mushroom and cheese stuffed tartlettes, perfect for finger food as snacks for guests or just to treat yourself. Using prepared wonton wraps makes it quick and easy to create a fancy look that tastes great.

Trans-fat Free, Low Carb, Sugar-Free, Low Sodium
(1)

A creamy and rich wild mushroom soup that doesn't contain any cream. It's loaded with wholesome veggies and satisfies with earthy goodness.

Low Cholesterol, Cholesterol-Free, Trans-fat Free, Low Carb
Showing 1 - 15 of 962 recipes