Pork Larb Salad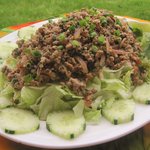 This is a type of meat salad that is an "unofficial" national dish of Laos and is also made in Thailand. It is a dish of ground meat, flavored with lime juice and fish or soy sauce and various other ingredients such as chilies, cilantro and mint.
Metric
Ingredients
2/3 cup water
1 pound ground pork
1/3 cup chopped/sliced scallions
1 medium-small red onion, thinly sliced
1 medium-large ripe tomato, peeled, seeded and diced
1 medium-small cucumber peeled and sliced (score with fork to make fancy ridges)
1/3 cup chopped fresh cilantro, or more to taste
¼ cup chopped fresh mint, or more to taste
¼ cup lime juice
3 Tbs. fish sauce or soy sauce
2 tsp. dried Thai chili pepper flakes, or red pepper flakes
Romaine or iceberg lettuce, chopped
Additional cilantro leaves (for garnish)
Fresh lime wedges
Sriracha hot sauce
Directions
Bring water to a simmer in a large skillet over medium heat. Add pork; cook and stir, breaking meat into crumbles, until no longer pink, about 5 to 7 minutes. Remove from heat.
Stir in green onions, red onions, tomato, chopped cilantro, mint, lime juice, fish or soy sauce and chili flakes; mix well.
Serve warm atop chopped romaine or iceberg lettuce and surround with cucumber slices. Garnish with whole cilantro leaves and lime wedges. Provide Sriracha sauce to squeeze over the top, if desired.