Matar Paneer Recipe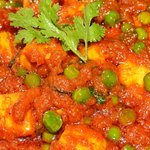 One of the most popular north Indian dishes, Matar Paneer is a staple in almost every household. A delicious curry dish made with cottage cheese, green peas and tomato puree based sauce, it is simple to make yet packs in a punch with the flavours. Best enjoyed with naan, chapatti or rice, it is the ultimate dish for the vegetarians looking to get their daily dose of protein while tickling their taste buds with something appetising and flavoursome.
Metric
Ingredients
- 1 cup fresh or frozen peas
- ¾ cup cottage cheese (paneer) cut into small cubes
- 1 medium onion chopped
- 1 tbsp green chillies (chopped)
- 2 tbsp Dabur Hommade Ginger Garlic Paste
- 2 Medium Tomatoes (chopped)
- ½ tsp Ginger Paste
- 2 tbsp Dabur Hommade Tomato Puree
- ½ tsp turmeric powder
- 1 tsp red chilli powder
- 1 tbsp dried coriander powder
- 1 tsp garam masala
- 2 tbsp oil/ghee
- ½ cup water
- 5-6 cashews (soaked in water for 20-30 mins)
- Salt to taste
- 1 tsp fresh cream
- Fresh coriander for garnishing
Notes:
If you are using frozen peas, boil them in water till they become tender. Strain them and then use them for the cooking process.
Directions
1) In a grinder and add onions, tomato, green chillies, ginger and 2 tablespoons of water. Blitz it till the time till the mix reaches a coarse consistency.
2) In another jar, blitz in the cashews along with a little water to form a smooth paste.
3) Heat oil in a pan and lightly fry cubes of paneer in it. Once fried, take the cubes out of the pan and keep it aside for later use.
4) In the same pan, add the onion & tomato paste and saute until the oil starts to separate and the mix turns translucent. The whole process can take anywhere between 5-7 minutes so keep stirring the mix from time-to-time to avoid it from burning or sticking to the bottom of the pan.
5) Once the mix is ready, add tomato puree & ginger paste and cook on medium flame for another 5- 6 minutes to let entire mix come together.
6) Now start adding the dry masalas to the mix and keep stirring. If you feel the mix has become too dry, you can add a spoon of water to it.
7) Now add the cashew paste and stir. Let it cook for another 1-2 minutes.
8) Now add the peas and a cup or two of water. Mix properly and let it simmer for another 3-4 minutes.
9) Once the curry starts to bubble, add paneer cubes and cook for another 3-4 minutes.
10) Once the curry has reached the desired consistency, take the pan off the flame and transfer the prepared curry to a serving dish.
11) Garnish with a teaspoon of fresh cream and coriander
12) Serve hot with an Indian bread or a rice preparation of your choice.
Variations to try:
To make the dish more waist friendly, you can do away with frying the paneer cubes before adding to the curry. You can add raw cubes as well but make sure they are cooked properly before taking the dish off the flame

The consistency of the dish depends upon your liking. If you like your curry to be thick, cook the dish for an extra 5-10 minutes. If a runny curry is what you like, add more water to it at step 8.

You can increase or decrease the quantity of paneer, matar & spices as per your requirement
Best paired with:
Matar paneer tastes best with hot phulkas but you can eat it with boiled rice as well.

Add to it a bowl of chilled raita, fresh green salad of cucumber & onion and green chutney will add to the taste and give you a well-balanced meal option.