Tarragon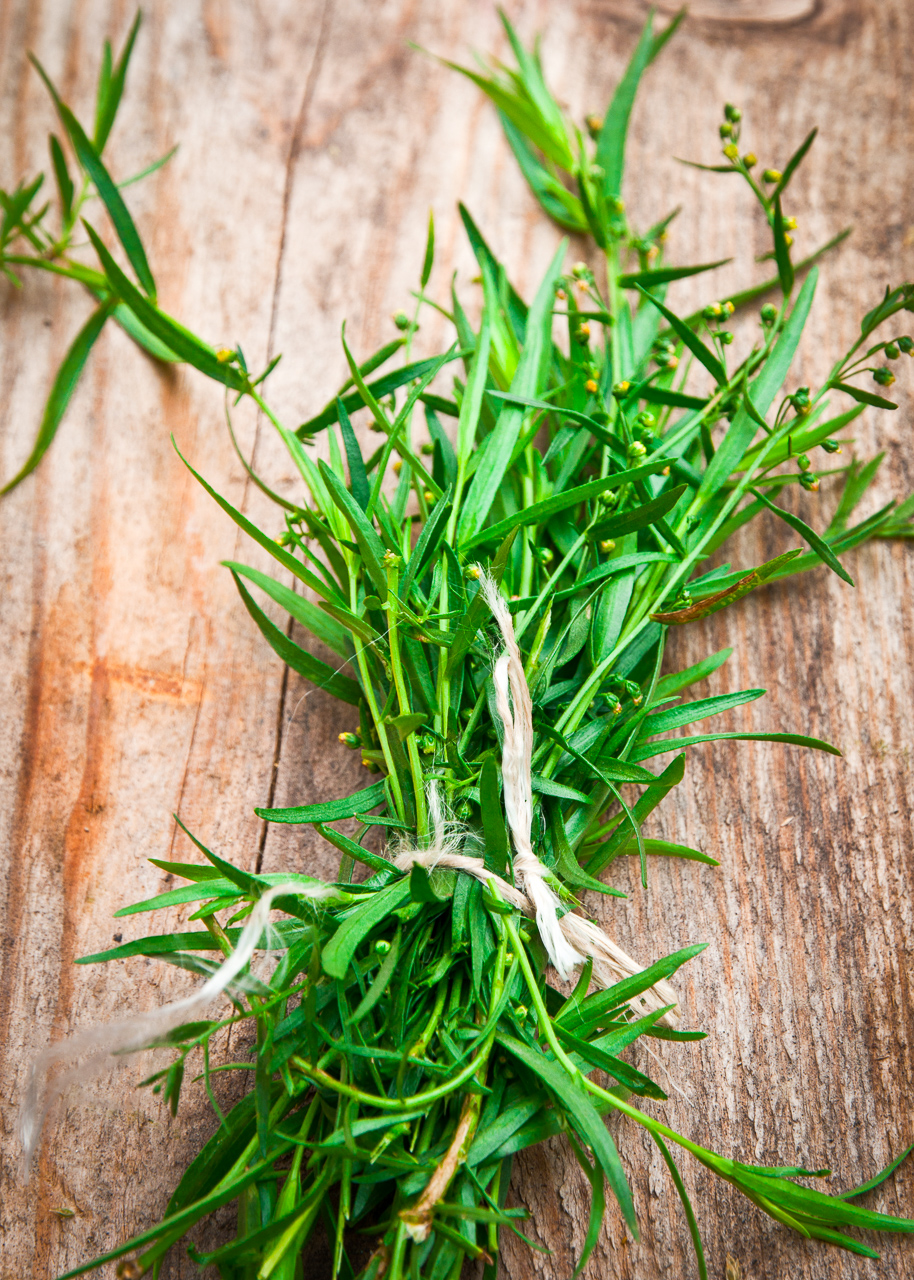 The species name dracunculus derive from Latin draco "dragon" and Greek drákoon, because the herb was, in the Middle Age, popular for driving away these beasts. Tarragon was used by the ancient Greeks to relieve toothaches. During the Middl
History
The species name dracunculus derive from Latin draco "dragon" and Greek drákoon, because the herb was, in the Middle Age, popular for driving away these beasts. Tarragon was used by the ancient Greeks to relieve toothaches. During the Middle Ages, tarragon was thought to cure snake bites because of the serpentine shape of its roots.
Tarragon, botanically-known as Artemisia dracunculus, is believed to have been brought to Europe from Mongolia and Siberia by invading Mongols in the 13th century.
Although it was native to these remote Chinese and Russian areas, perhaps its remote birthplace contributes to its lack of popularity prior to this time. By the 15th century, it was popular enough in England to make its way to American shores with the colonists.
In the Far East, true tarragon was known as "little dragon," a reference to its root system, and was thought to cure snakebites and other venomous bites. The herb was cooked and eaten as a vegetable centuries ago. Home gardeners with tarragon plants will know that if not divided regularly, tarragon will actually strangle itself.
Oddly enough, true tarragon is generally sold as French tarragon. In the United States, False or Russian tarragon (Artemisia dracunculoides) is regularly sold as tarragon, but it pales in taste and aroma in comparison to true tarragon.
French tarragon has a glossy narrow, spear-shaped leaf with smooth edges. Russian tarragon looks very similar, but the leaves are more narrow and spiky and the flavor is more bitter.
Growing Tarragon & Varieties
There are two types of Tarragon, "French" and "Russian." Because it is more savory with a light anise-like flavor, "French" tarragon is more highly sought. Oddly enough both "French" and "Russian" Tarragon originated in Russia.
Appearance
A 2 to 3 foot bush (up to 1 metre) with narrow leaves and a bold anise flavor and fragrance.
Growing Know-How
Plant in well-drained but moderately fertile soil and full sun. Space plants 18 inches apart.
Propagation
If you already have tarragon, you can divide it to make more plants. You can also take cuttings in summer.
Potential Problems
Divide every couple of years; replant healthiest section. French tarragon cannot form seed. French tarragon is prone to root rot in heavy and wet soils.
Harvesting and Using
Harvest sprigs through the summer but stop harvesting in fall to discourage winter damage. Harvest six to eight weeks after planting and until leaves turn yellow in the fall.
Related Herbs
Russian tarragon resembles French tarragon but with much inferior flavor. It is grown from seed and gets to be 5 feet tall. Russian tarragon can form seed.
Medicinal
High in vitamins A and C, the leaves from this herb are believed to help stimulate the appetite and a tea made from tarragon has often been used as a tonic.
The root of Tarragon was formerly used to cure toothache.
Cooking
The bittersweet leaves with a slight hint of licorice flavor work well in many recipes, particularly salads and salad dressings, vegetables, poultry, eggs, sauces, and seafood.
An essential part of French cooking, Tarragon is part of the fines herbes mix (along with chives, parsley, and chervil).
The leaves of this herb are used in classic French sauces, egg dishes, flavored butters and creamed cheeses, soups and in poultry dishes.
A popular use is in Tarragon Vinegar, made by adding a sprig of Tarragon to a sterile bottle and covering with boiling white wine vinegar.
When tarragon is dried, the oils dissipate. Thus, fresh tarragon has a much more intense flavor than dried, and should be used sparingly.
Tarragon vinegar is easy to make. Put fresh tarragon sprigs into a sterilized bottle of distilled white vinegar. Taste after a few days.
Continue steeping until it suits your taste. Once desired strength is achieved, remove the sprigs.
Tarragon is a prime ingredient in Bérnaise Sauce and the French favorite herb mixture, Fines Herbes.