Yummy Chocolate Chip Cookies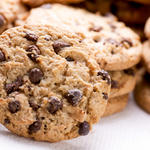 Yummy Chocolate Chip Cookies recipe
U.S.
Directions
Line two baking sheets with parchment paper.
Preheat oven to 350℉ (180℃).
Cream the butter with both sugars until well blended.
Stir in the vanilla and egg.
Fold in the flour, baking soda and salt, then, lastly, fold in the chocolate chips.
Form into rounds the size of golf balls, place 3 inches apart on the baking sheets and press down slightly.
Bake until just light brown around the edges, about 14 to 16 minutes.
Do not overbake these cookies -- they may seem a little underdone but will crisp as they cool.
Cool on racks.
NOTE: For a lighter, commercial-style texture, substitute ¼ cup golden shortening for ¼ cup of the butter.