Super Easy Meatloaf from a Box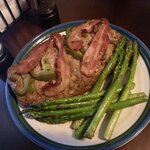 Ground Beef mixed with Box Stuffing, Egg, and Water makes a quick and easy meatloaf.
U.S.
Ingredients
~1 lb Ground Meat (Beef, Turkey, or Chicken)
1 Egg
1 Box Stuffing
1 C. Water
Green Pepper (Optional)
Bacon (Optional)
Cheese (Optional)
Directions
Mix ground meat with stuffing, egg, and water.
Fold in diced green pepper if using, bacon and cheese optional.
Stuff meat mixture into bread pan.
Top meatloaf with green pepper slices, bacon slices, or cheese to enhance.
Bake at 350℉ (180℃) for 45 minutes.
Serve plain or with BBQ sauce, mustard, or ketchup.