Spiced Walnut & Serafina Cheese Spread Sandie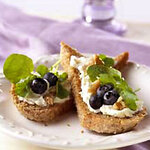 Find more recipes on www.thenibble.com.
Metric
Directions
Preheat oven to 325°F.
Toast walnuts in oven until slightly browned (approximately 15 minutes). While hot, toss walnuts with olive oil and spices; allow to cool.
Spread English muffin or artisan bread with cheese. Gently press blueberries and spiced walnuts into the spread. Top with watercress. Serve open-faced.