Spaghetti with Chicken and Spanish Green Olives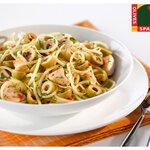 Recipe made by the ambassador for Olives from Spain José Pizarro. Spain is the largest producer of olives in the world. The four main varieties of Spanish table olive available from major supermarkets in the UK are: Manzanilla, Gordal, Hojiblanca and Cacereña. Spanish table olives can be served in a different number of ways including: whole, pitted, stuffed with one or more ingredients such as pimento, onion, tuna, anchovy, salmon, almond, etc. It is a healthy seasonal ingredient, with the Spanish olive harvest running from September-March. www.olivesfromspain.co.uk
Metric
Directions
Fill a large stockpot with salted water and bring to a rolling boil. Add the pasta and stir often. Cook until al dente for 8–10 minutes, but check packet instructions.
Meanwhile, in a large saucepan, heat the olive oil over a medium heat, add the garlic and the chili and cook for 1 minute.
Season the chicken with salt and fresh black pepper and add it to the pan; cook it with the chili and garlic for around 6 minutes. Now add the Spanish green olives.
Drain the pasta into a colander, and place it in the saucepan and mix well. Add the lemon zest and juice and stir. Add the parsley and serve immediately.