Roasted Sweet Potatoes with Hummus & Crispy Kale
Directions
(Serves 2 as a main dish, or 4 as a side)
Preheat the oven to 400℉ (200℃) F
Arrange sweet potatoes on a baking sheet.
Bake for 75 minutes or so until entirely cooked. Test with a fork or a paring knife.
Whilst the sweet potatoes are cooking, prepare the crispy kale.
How to make crispy kale
Toss together the kale, chili, olive oil salt and freshly ground black pepper in a large mixing bowl until well combined and the kale leaves are evenly coated.
Spread out evenly on a large baking sheet.
Bake at 400℉ (200℃) F until kale leaves become golden and crispy, 10 minutes or so. This can be done simultaneously while baking the sweet potatoes.
To serve
Cut sweet potatoes in half lengthwise,
Spoon the hummus over the sweet potatoes, then top with caramelized onion relish and then crispy kale.
Add hot pepper flakes if desired.
Serve warm.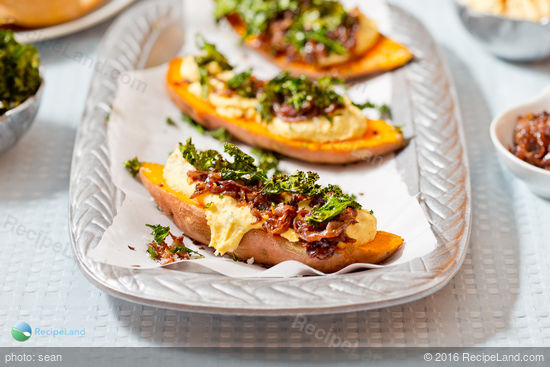 ---
---