Lemon and Oregano Lamb Kebabs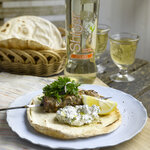 Even the most seasoned chef needs a little bit of inspiration now and again, so with this in mind, Shloer the sparkling juice drink has created a number of recipes, perfect for any Sunday social. Simply visit the official Shloer Facebook page at www.facebook.com/shloer to find all the recipes, shopping lists and information on the latest promotions. You can also pick up some tips from one of the many Shloer fans, who are always on hand for a pointer or two! Why not give them a go and enjoy a glass of chilled Shloer, with your closest family and friends.
Metric
Directions
In a medium sized bowl, place in the lamb with the oregano, lemon and olive oil, season with salt and pepper and set aside for 20 minutes to marinade.
In a small bowl, mix together the Greek yoghurt, cucumber and mint and then season with salt and pepper and set aside.
Preheat a griddle pan or BBQ.
Then divide the lamb between four skewers and place on the griddle or BBQ and cook for three minutes each side, the lamb should be slightly pink in the middle.
When the lamb is cooked, divide between four warm plates and serve with the cucumber and mint yoghurt, flat breads, lemon wedges, red onion and parsley.
Serve with Shloer.